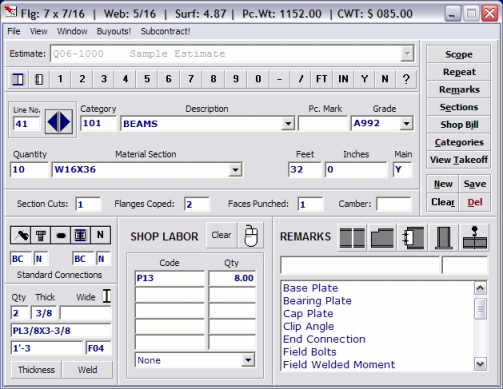 Standard Takeoff Window
The system will configure the takeoff window based on the type of material (W, PL, C, etc.) that is being entered and is designed to accept input from top-left to bottom-right. This means you do not have to jump around from window to window to enter your estimate. While your estimators can enter data directly from your drawings using a mouse or the keyboard, estimates can also be taken off onto the supplied takeoff sheets. This allows estimates to be prepared by estimators and entered into the computer by clerical personnel.
In this example the screen is configured to enter a beam, complete with all cuts, copes, framed end connections and stiffeners. All material weights, surface area, fasteners, paint, and fabrication labor will be calculated.
Fabrication being entered for this example:
(10) - W16X36 beams as main members into fabrication category 101 - BEAMS, which automatically assigns ASTM A992 and a red oxide finish.
Saw cut to length on one end only.
Two flanges being coped.
Punched on one face.
Shop bolted, field bolted AISC standard framed connections on both ends. (During takeoff, the angles, bolts and / or weld used for these connections may be viewed and edited by clicking either the Shop Bill button or the Material Connection button.)
(2) PL3/8 x 3-3/8 x 1'-3 stiffeners with 1/4 fillet weld. (The stiffener width and length are sized automatically when you enter the thickness. You may override by entering a different width.)
Punch (8) 13/16" holes. (These are in addition to the holes that are automatically punched for the end connections.)